Welcome to Chester Anglican Cursillo ®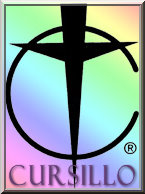 Mission Statement
Anglican Cursillo is...
a movement of the Church providing a method by which Christians are empowered to grow through prayer, study and action and enabled to share God's love with everyone
Click here for the British Anglican Cursillo Council (BACC)
IF YOU WOULD LIKE TO GO ON A CURSILLO WEEKEND
Cursillo weekends are run regularly by Chester Anglican Cursillo, which celebrated its 25th anniversary in April 2013 at Chester Cathedral.

For dates of forthcoming weekends, see the Weekends page.
Get in touch with someone on the Who's who page who will let you have more information and a list of dates and venues.
Pray about it and seek God's guidance.