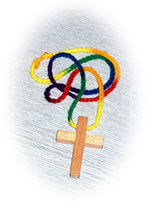 Cursillo is a method of supporting and encouraging our lives as Christians.
Cursillo (pronounced "kur-see-yo") is a Spanish word meaning a short course in Christianity.
WHAT DOES CURSILLO OFFER?
An opportunity to grow in faith.
A chance to know the love and grace of God and the joy of Christian fellowship.
A way of experiencing Christian community and helping one another in our spiritual journey and in active witness.
An opportunity to develop one's gifts of ministry in the Church.
It embraces the insights and good teaching of all the traditions of the Anglican Church.
It operates within the Church and not outside it, so it works together with groups and organisations in a parish.
WHO IS IT FOR?
Any baptised member of the Anglican Church (laity or clergy) who is.
» Curious

» Searching

» Discovering

» Growing

» Wanting to be joyful and confident in their faith.
Many married couples have found it helpful to attend a Cursillo weekend together, but if this is not possible they should not be discouraged from attending separate weekends.
WHAT IS A CURSILLO WEEKEND?
It begins on a Thursday evening and ends the Sunday afternoon.
During these three days those attending live, work and worship together listening to talks given by different people, both lay and ordained, and they share in various social activities.
You will hear short talks on subjects like Grace, Faith, Study, Sacraments, Ideals, Evangelism, Christian Community in Action. There are 15 talks in all.
The talks usually lead to lively follow-up in small groups.
In addition, there is Holy Communion each day and a number of chapel meditations.
Learning, praying, sharing, singing, laughing and living together is the basis for discovering what it means to say "We are the body of Christ".
From all this you will realise that Cursillo is very different from a silent retreat - it is often described as more of an advance!
HOW SHOULD I APPROACH A CURSILLO WEEKEND?
There is no specific response expected of you - just to be open to what happens.
Be prepared simply to take a fresh look at what the Church has always taught - the miraculous and joyful discovery of Christ's endless, unconditional love for us.
AND THEN...?
The three days are not an end in themselves but very much a beginning. The three-day weekend leads into the............
Click here to see what happens after the weekend!